---
New restaurants in January 2020
---
A new decade has arrived and with it, comes a plethora of new restaurants to gorge at. As we eagerly wait for the next food trends to take over bubble tea and mala, check out these 10 new menus and restaurants in January 2020 for legit Korean nosh, one of USA's most popular burgers and more.
---
1. Tsuta
---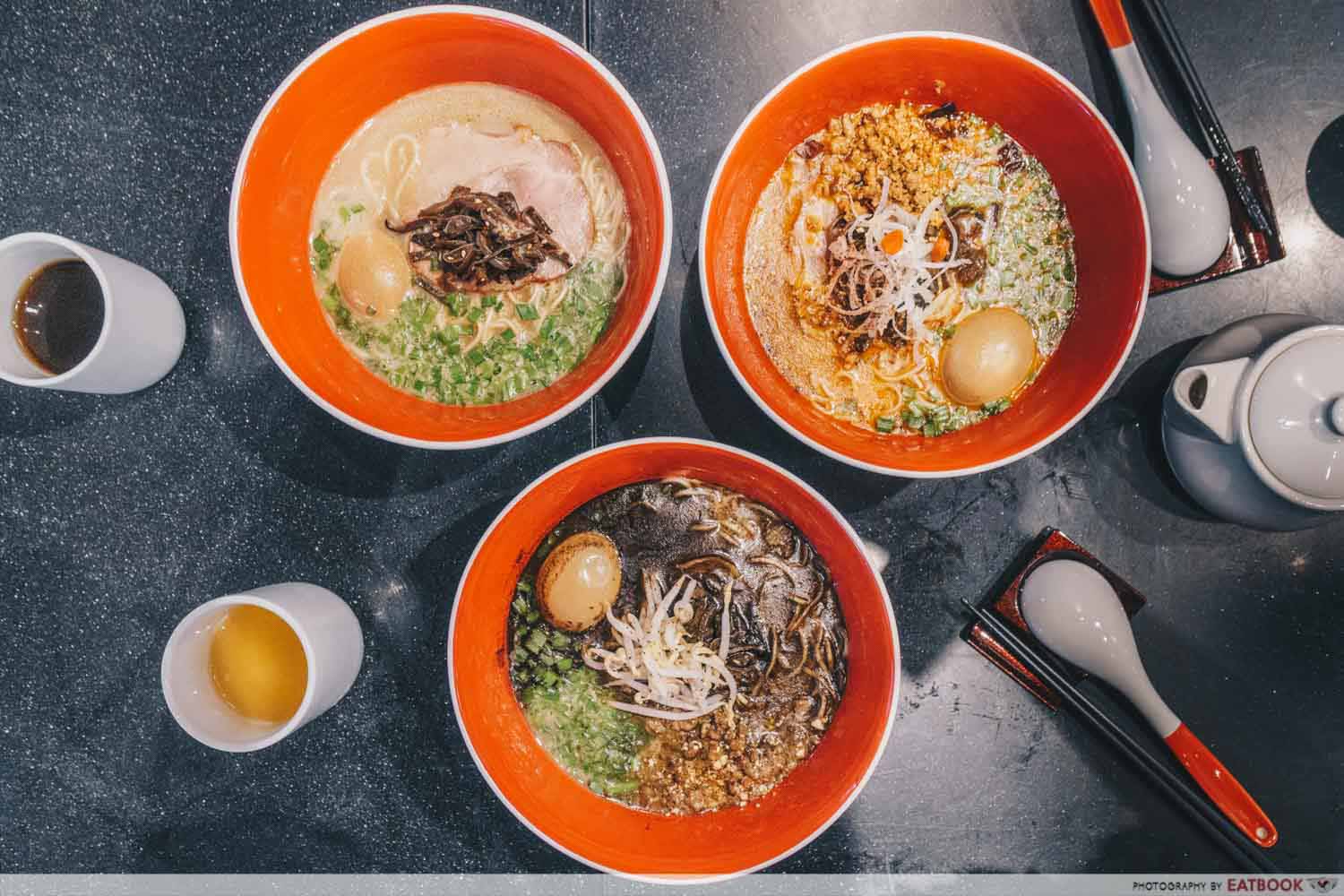 Michelin-starred Tsuta is releasing a new range of tonkotsu ramen without any MSG or artificial flavours. The restaurant previously focused on a lighter style of shoyu broth, with their main dish being the Shoyu Soba ($15) with truffle-flavoured broth. 
Due to a high demand for the tonkotsu ramen, head chef Yuki has come up with the three new recipes after a year's worth of kitchen trials.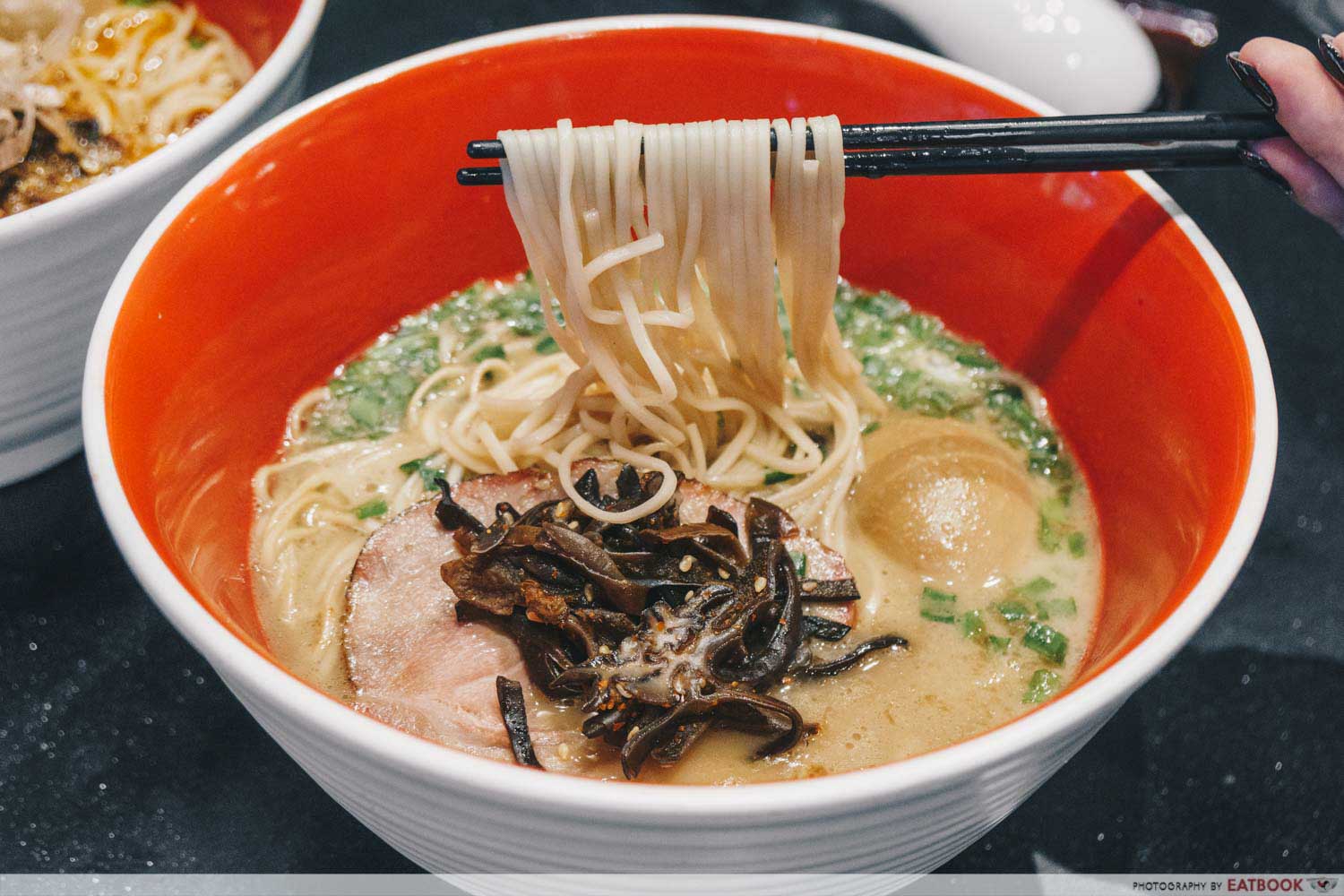 The main attraction is the Tonkotsu Soba ($12), which comprises classic tonkotsu broth and hard soba noodles. It's topped with crunchy black fungus and a tender piece of chashu. The broth is a bit lighter than the soup base that you'd find elsewhere and is less cloying. 
There's also the Kurobishio Tonkotsu Soba ($13) and Mala Tonkotsu Soba ($13). The former contains black garlic oil which makes it more fragrant. Fried garlic is sprinkled over the dish, providing smoky notes. The mala broth is rich, slightly spicy, and has the distinct aroma of mala. It's rather sweet, and the meatiness of the tonkotsu broth is slightly overpowered by the herbal flavours. 
Address: 109 North Bridge Road, #01-04, Funan Mall, Singapore 179097
Opening hours: Daily 11am to 10pm
Website
Tsuta is not a halal-certified eatery.
---
2. Tiger Sugar Dessert
---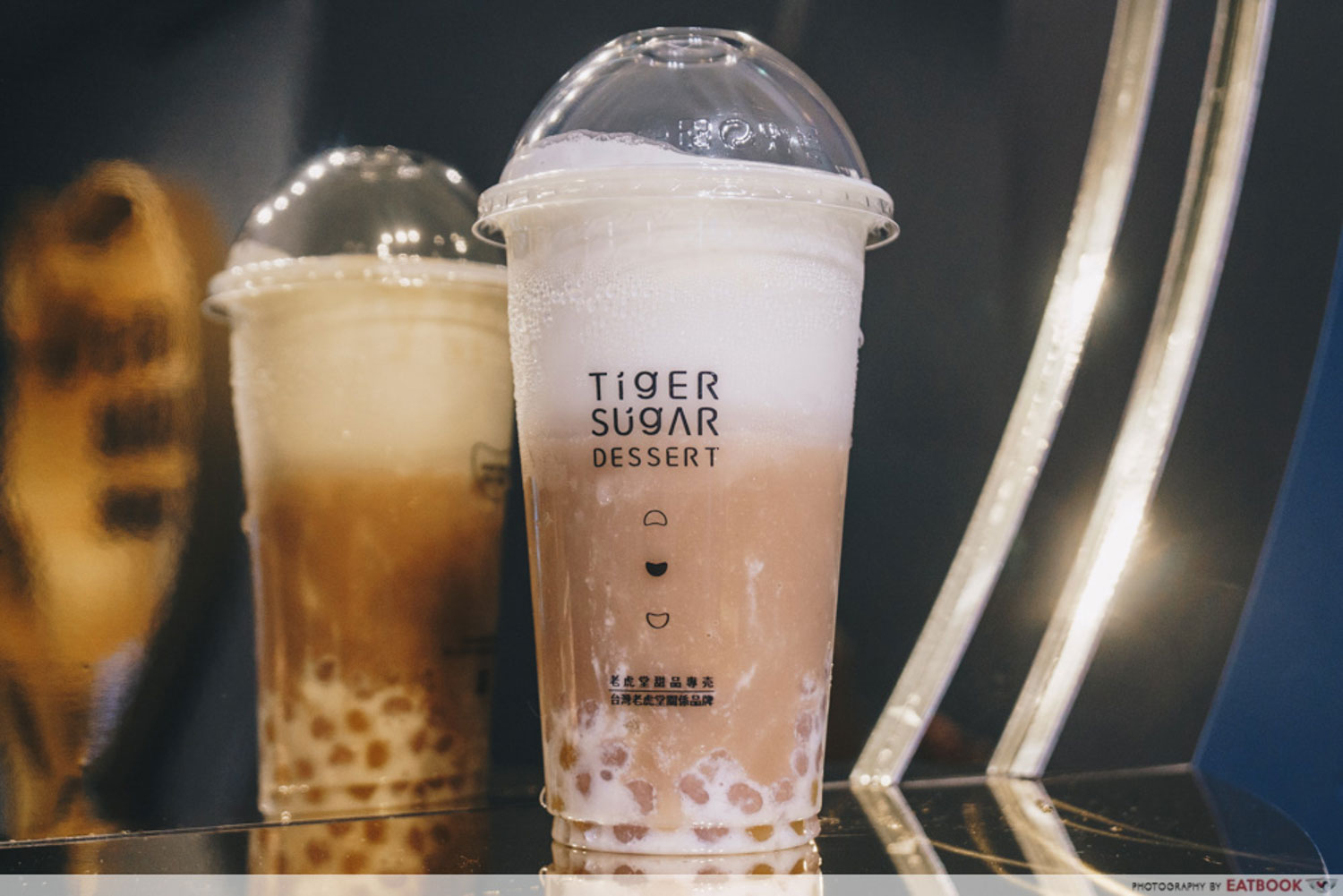 Tiger Sugar's newest concept, Tiger Sugar Dessert, specialises in Taiwanese desserts—so you can slurp zhnged up treats such as lava taro, mango sago, and mung bean soup in a bar-like setting. There are only five signature desserts on the menu, most of which are made with specially sourced ingredients from Taiwan. 
The Taiwan Taro Lava with Taro Pearl and Cream Mousse ($6.60) comprises taro paste mixed with tapioca balls, and topped with cream mousse from Germany. The taro flavour is gao and you can even taste shredded taro in the drink.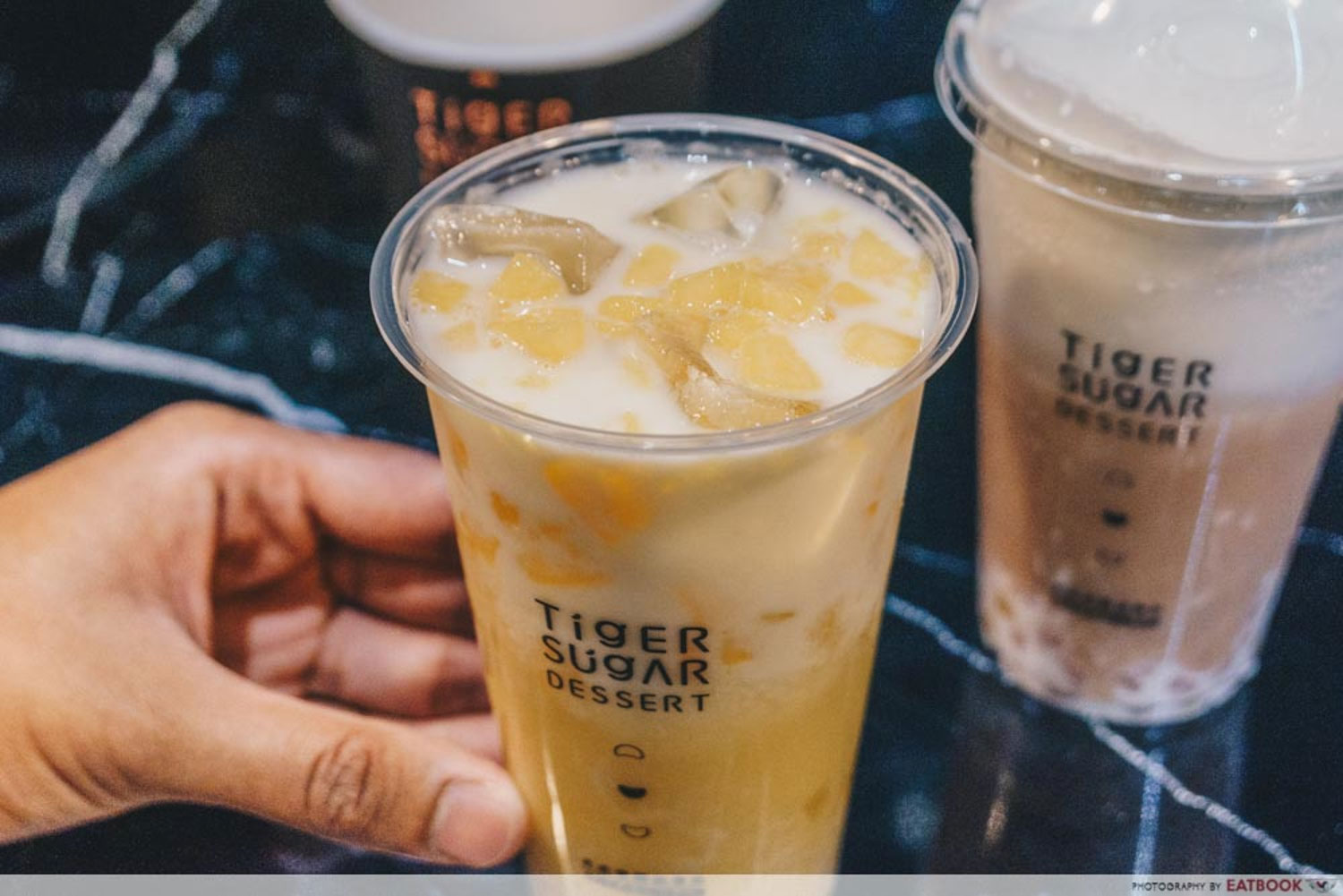 The Fresh Mango with Golden Crystal and Creamy Sago Milk ($6.90) is our favourite of the lot with its indulgent mango puree that's sandwiched between a bed of sago milk and crystal jelly. Topped with cubes of fresh mangoes, the drink is for those with a sweet tooth.
Tiger Sugar Dessert: Tiger Sugar Opens A Dessert Stall Serving Taro Lava And Mango Sago At Capitol Singapore
Address: 13 Stamford Road, #B2-32, Capitol Singapore, Singapore 178905
Opening hours: Daily 11am to 10pm
Website
---
3. Kómma Social Cafe
---
Straying away from big brand names is Kómma Social Cafe, the latest addition at Paya Lebar Quarter. This new joint refreshes cafe scene with its interactive element. Besides unwinding from coffee and pastries from Huggs Coffee, you can bring out your inner artist with their monthly creative workshops and selection of DIY craft kits. Alternatively, you could shop from their range of ready-made items by local makers.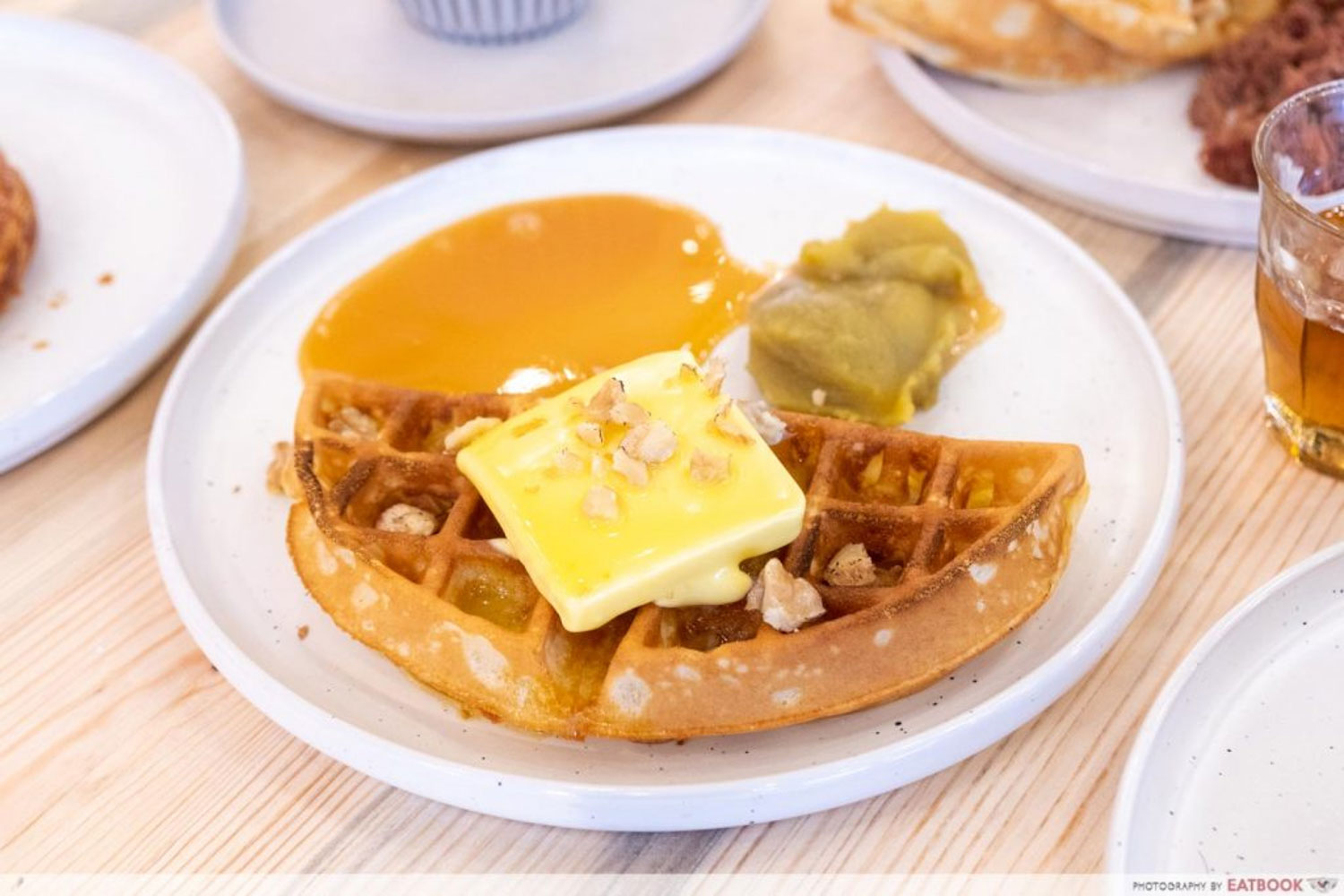 Once you're satisfied with your handiwork, reward yourself with their selection of waffles and pastries to go along with a cuppa joe. Their Kaya and Dulche goes at $7 for half a waffle or $10 for a full waffle. The sweet duo of kaya and butter complements the fluffy, toasty waffle. Dipping the combo in the dollop of malted caramel deepens the flavour of kaya spread. Pair the waffles with a cup of creamy Matcha ($6) for a wave of bitterness.
Kómma Social Cafe: New Cafe With DIY Craft Kits And Workshops At Paya Lebar Quarter Mall
Address: 10 Paya Lebar Road, #01-20, Paya Lebar Quarter Mall, Singapore 409057
Opening hours: Mon-Fri 8:30am to 10pm, Sat-Sun 10am to 10pm
Website
---
4. Five Guys
---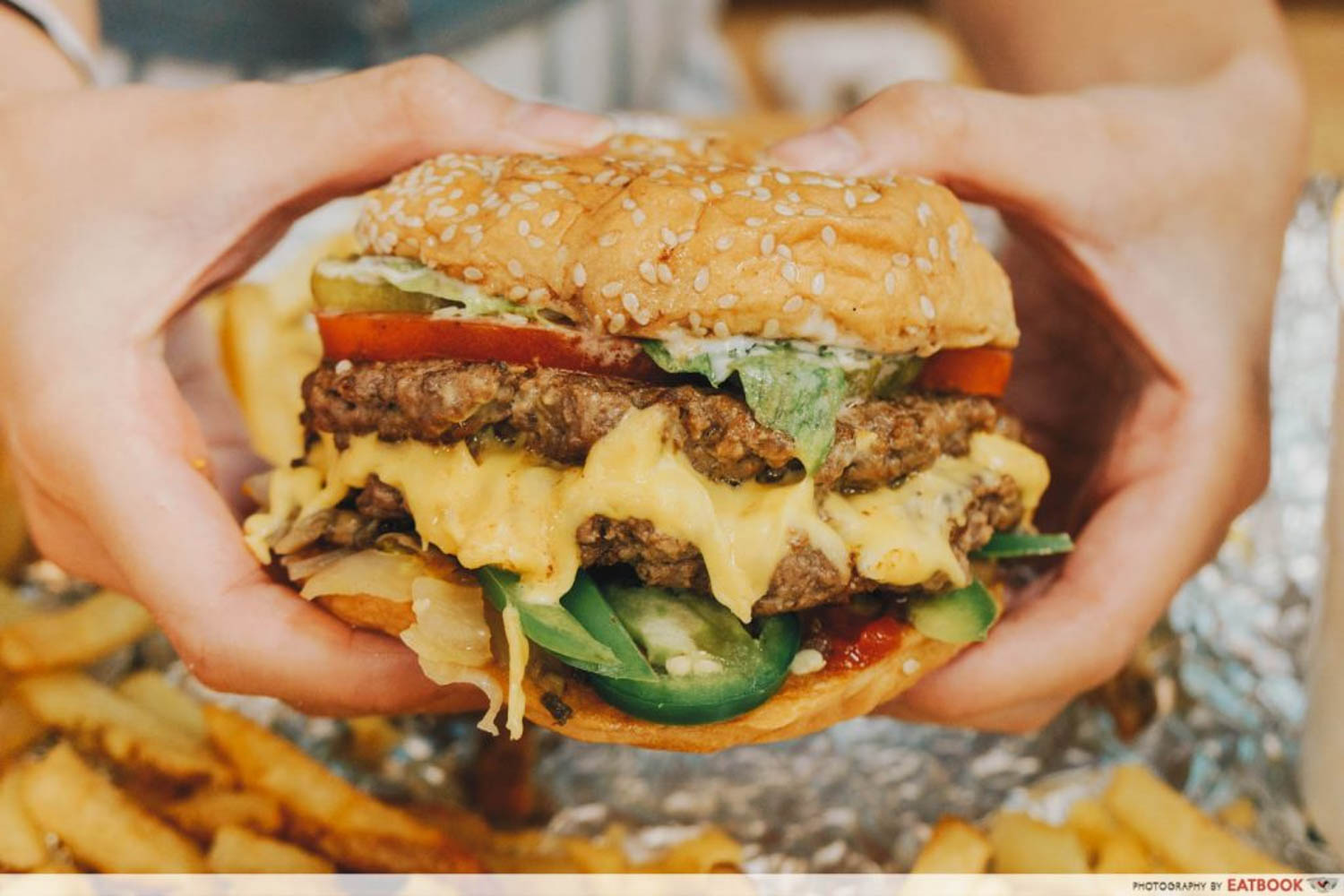 Joining Shake Shack and A&W on the list of new American fast-food joints in Singapore is Five Guys. While their burgers are pricey at $11 for a single-patty hamburger, you can design your burger with up to 15 toppings including grilled mushrooms, jalapenos, and green peppers. Their Cheeseburger ($15) is a sloppy yet delicious mess, which features fresh American cheese and two beef patties that are juicy and full of beefy flavour.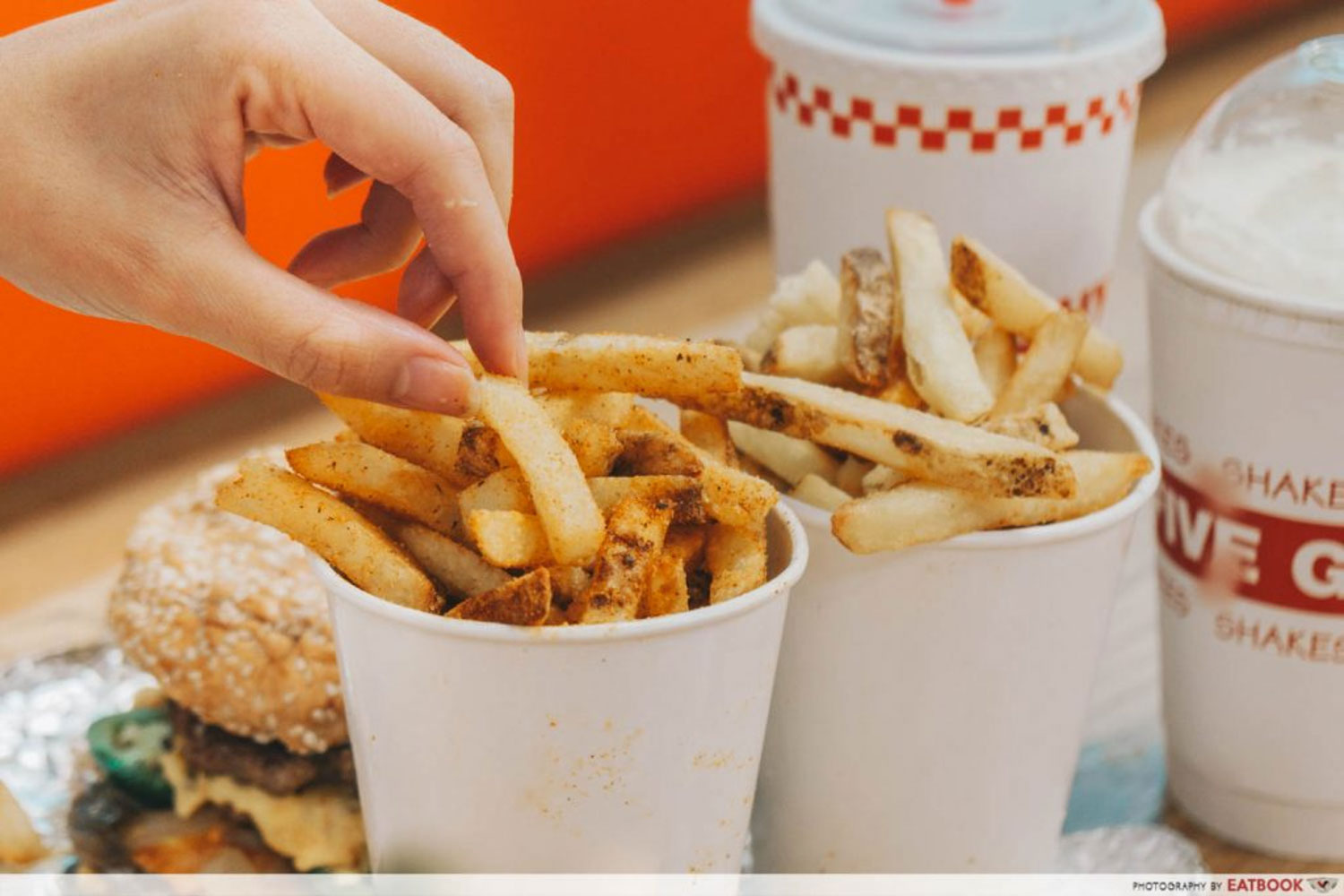 Their fries have the right amount crunchiness, and you can choose between Cajun and Original at $7 for a small cup. End it off with their Five Guys Shake ($11), which lets you pick from 11 different ingredients to make your own concoction. Our winning milkshake combo is peanut butter, salted caramel, and crushed bacon.
Find out more about Five Guys here!
Five Guys Review: Queue-Worthy Juicy Cheeseburgers And Peanut Bacon Milkshake At Plaza Singapura
Address: 68 Orchard Road, #01-32, Plaza Singapura, Singapore 238839
Opening hours: Daily 11am to 10pm
Tel: 6976 4385
Website
Five Guys is not a halal-certified eatery.
---
5. Kanada-Ya
---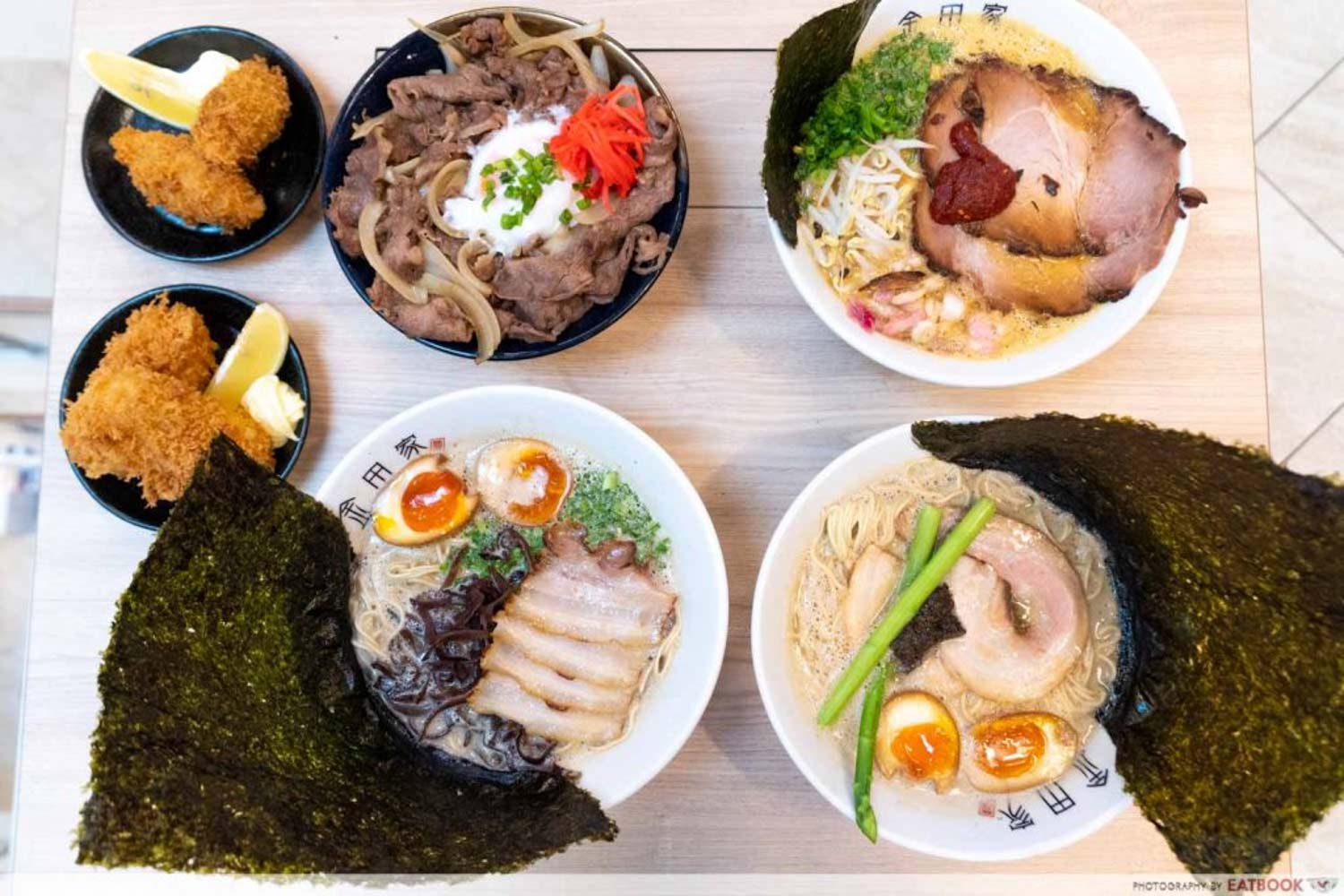 Drawing up long lines at its London outlet, Kanada-Ya has finally arrived in Singapore at Paya Lebar Quarter. This popular ramen chain originated in Fukuoka, the birthplace of tonkotsu ramen, and has won plenty of awards for its rich pork bone broth that's prepared for 18 hours.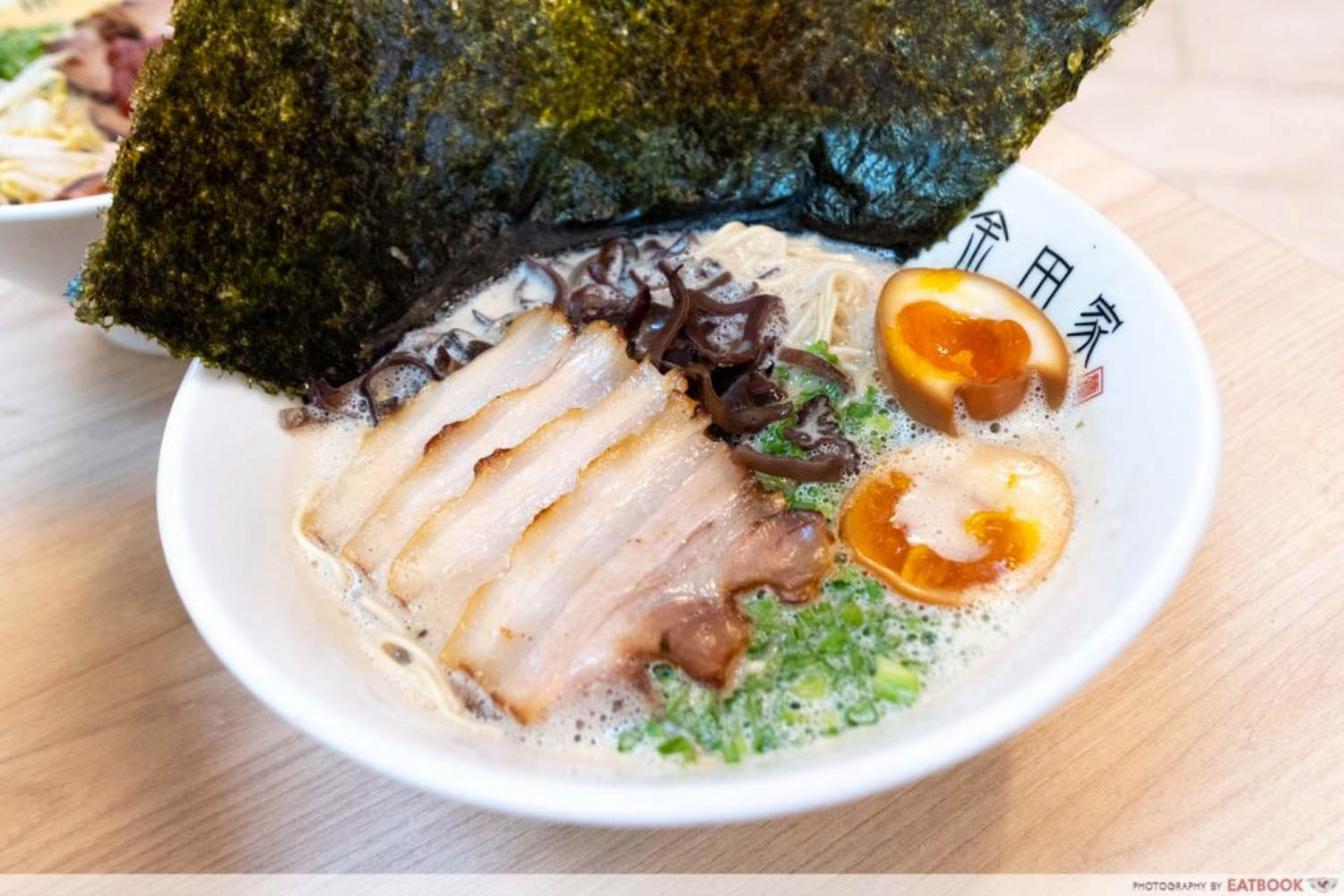 The Kotteri Tonkotsu Ramen Special ($18.90++) is their signature item and features classic Hakata-style ramen. It took only one sip for us to declare this store as a new challenger for the best tonkotsu ramen in Singapore. The addictive broth packed a creamy mouthfeel, along with a heavy and robust body that made us want to slurp everything up.
Kanada-Ya: Famous Ramen Restaurant From Fukuoka Opens With 100% Cash Rebate From 13 To 15 Dec 2019
Address: 10 Paya Lebar Road, #03-30, Paya Lebar Quarter Mall, Singapore 409057
Opening hours: Daily 11am to 10pm
Website
---
6. Burger Frites
---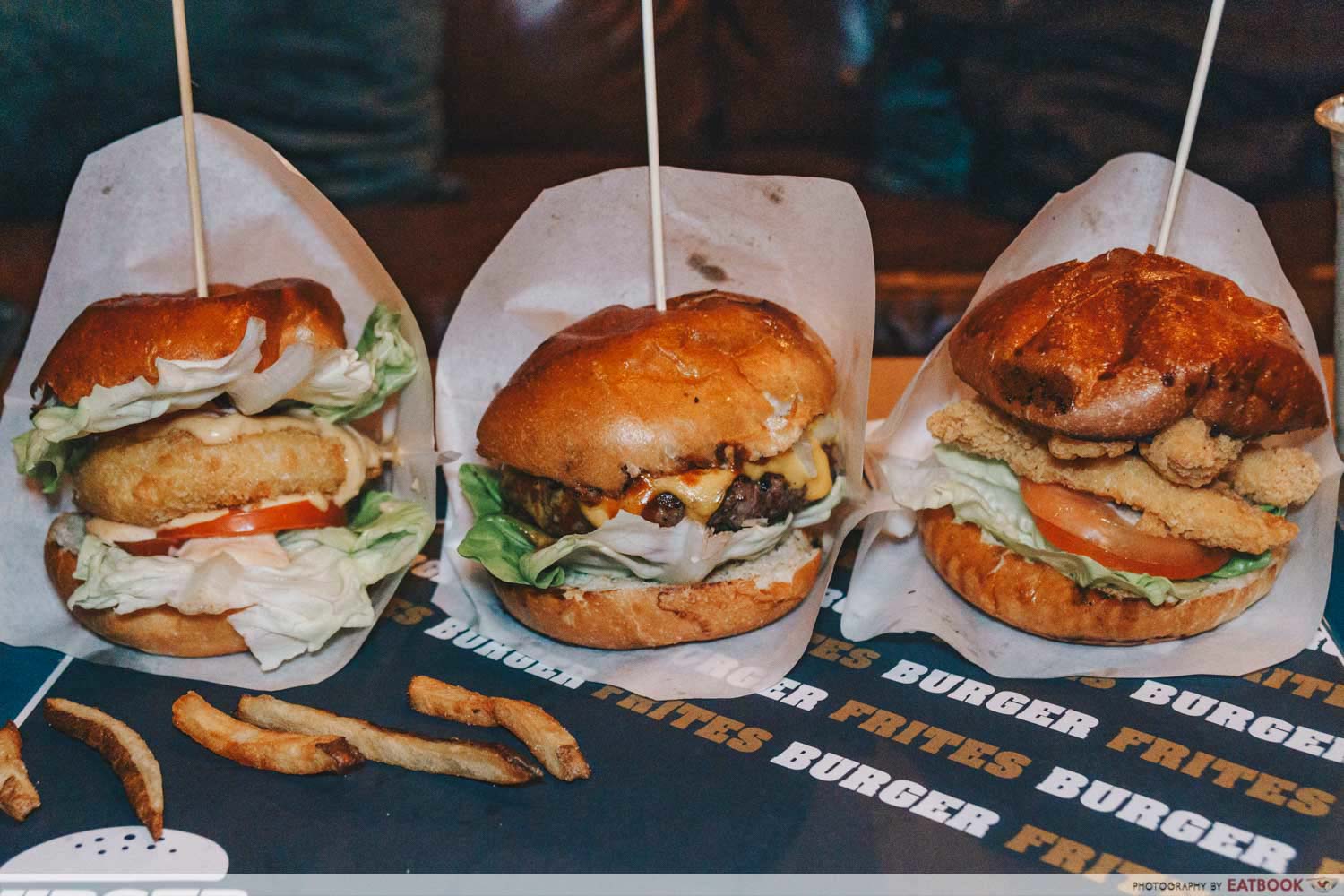 Burger Frites is a new gourmet burger entrant which serves up a mean spread of burgers at Joo Chiat. The store is founded by the same people behind Braseiro, and features patties sourced from Huber's butchery as well as custom-made brioche buns from artisan bakery Maison Kayser.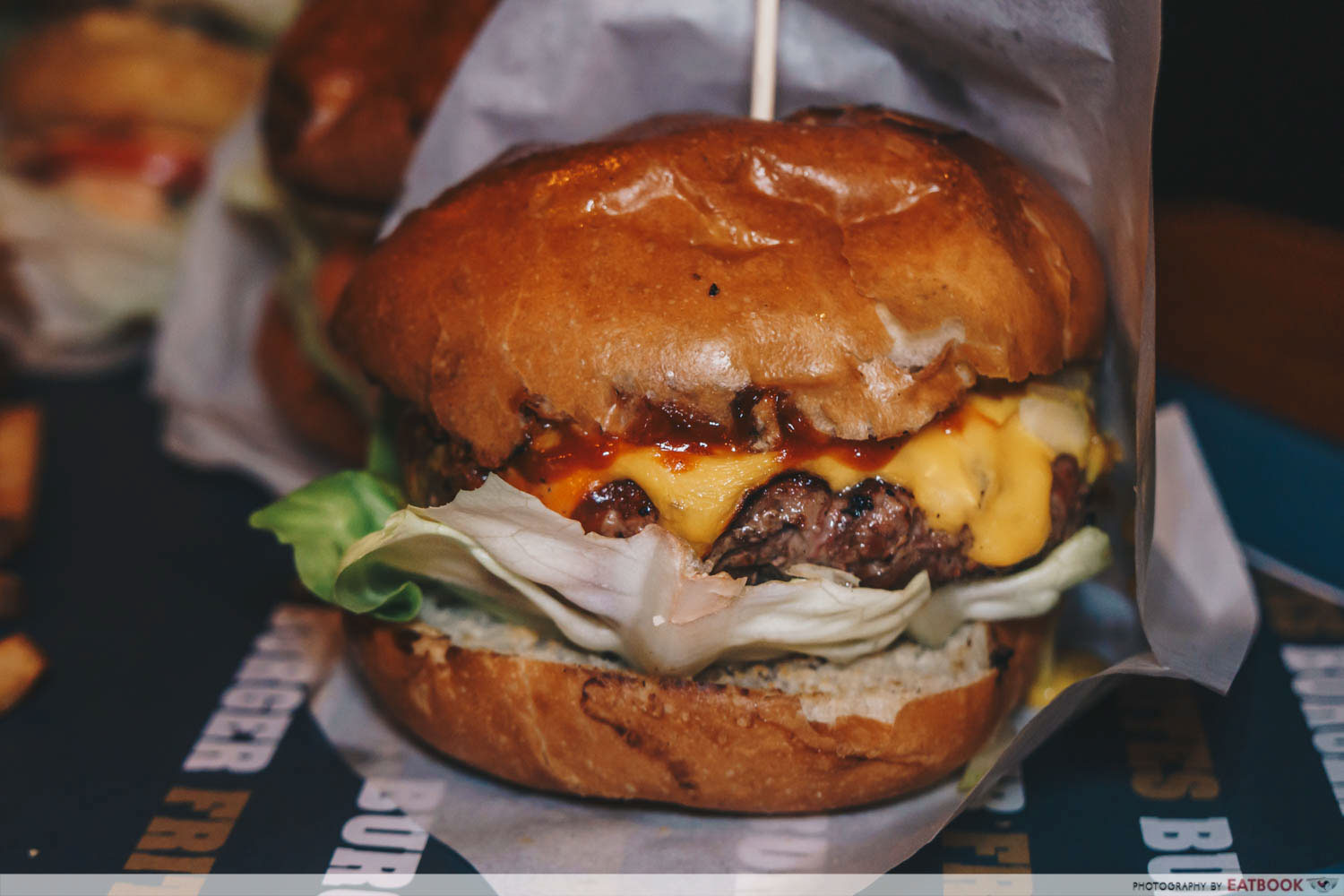 We're fans of their Angus Beef Patty Cheese Burger ($17++), which contains the staples of a classic cheeseburger such as melted cheese, greens, and a beef patty. The beef patty comprises three components: Angus brisket, striploin, and wagyu fat. The result is a hunk of meat that's umami-rich with the right amount of fattiness.
Address: 340 Joo Chiat Road, Singapore 427592
Opening hours: Tue-Fri 5pm to 11pm, Sat-Sun 12pm to 11pm
Website
Burger Frites is not a halal-certified eatery
---
7. Croquant Chou Zakuzaku
---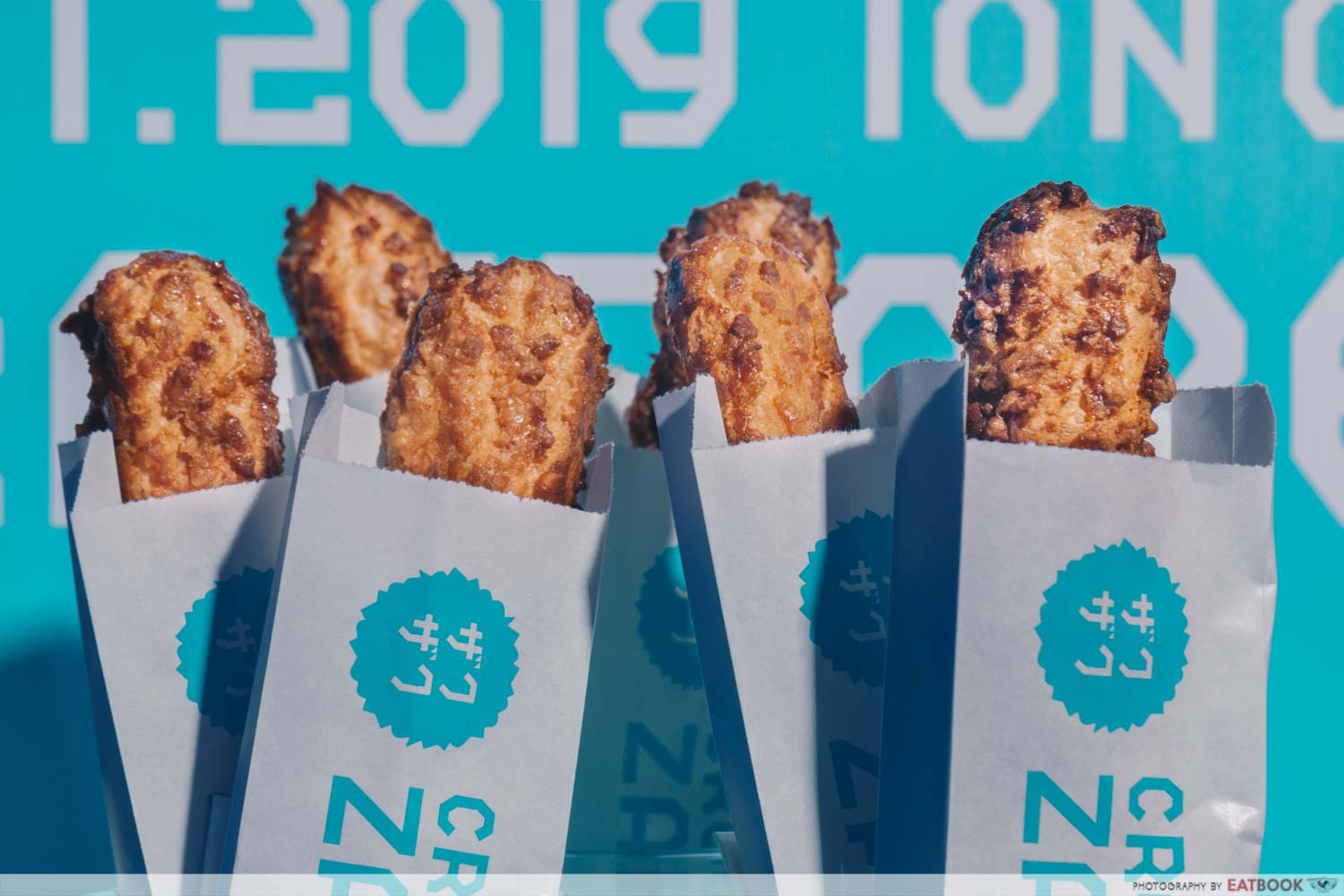 Croquant Chou Zakuzaku has long been a fixture in Japan, Taiwan, and Korea, but they've only just made it to Singapore! The dessert chain sells delicious Croquant Chou pastries at $2.80 a piece, with a set of four costing $10.50. The cream puffs are coated in a crisp, sweet crust, made from almonds and sugar. The custard filling within is made with fresh milk, and each snack is filled on the spot.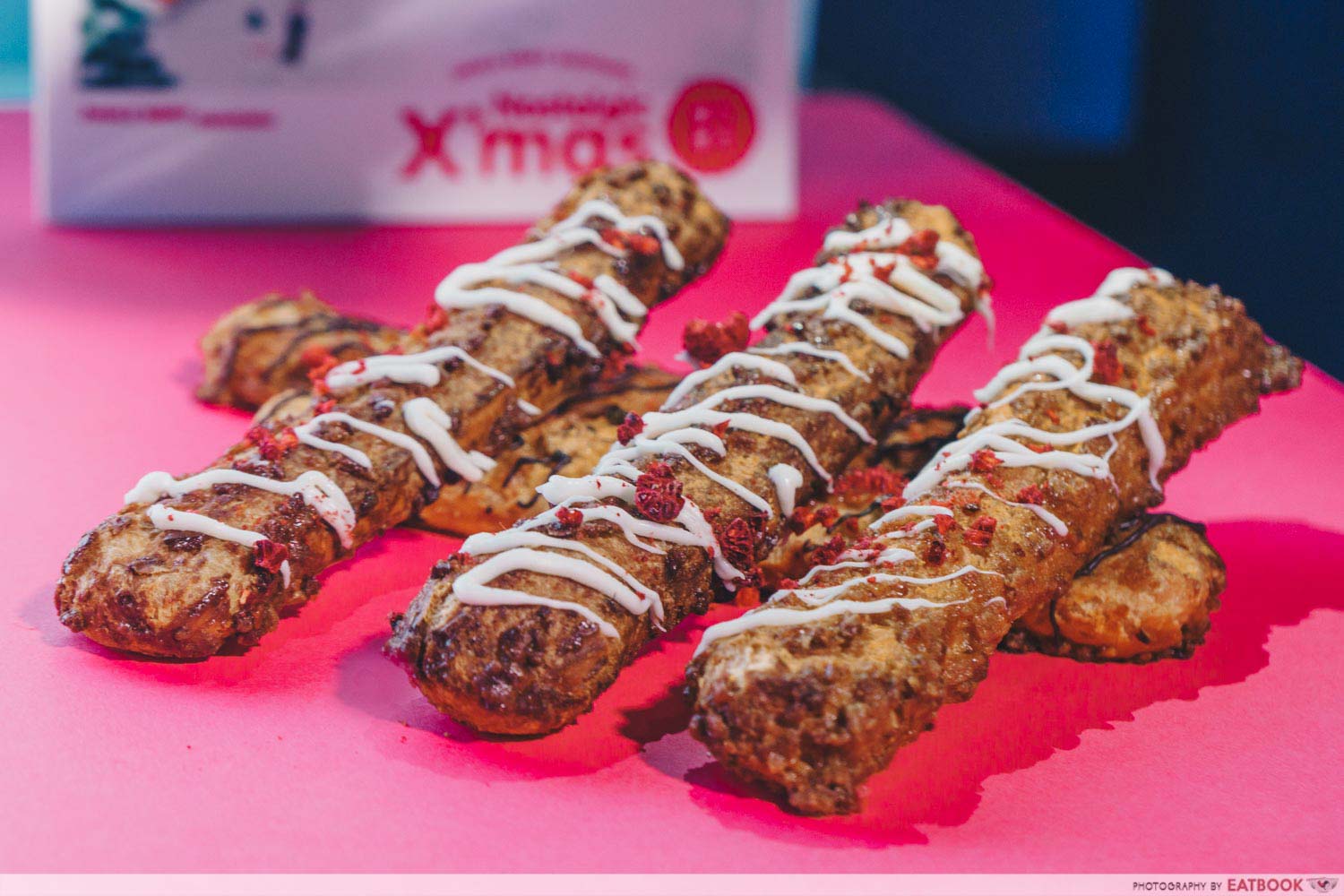 Zakuzaku occasionally introduces limited-time and seasonal specials. During the Christmas season, their special was the Jingle Berry Zakuzaku ($3.50), which had a strawberry filling and rich white chocolate. To start off the new year, the dessert kiosk is bringing in their Double Chocolate Zakuzaku ($3.60), which is a bestseller in Tokyo. The rich-tasting custard pastry will be available till 29 February 2020.
Address: 2 Orchard Turn, #B4-33, ION Orchard, Singapore 238801
Opening hours: Daily 10am to 10pm
Website
---
8. Kong Cafe
---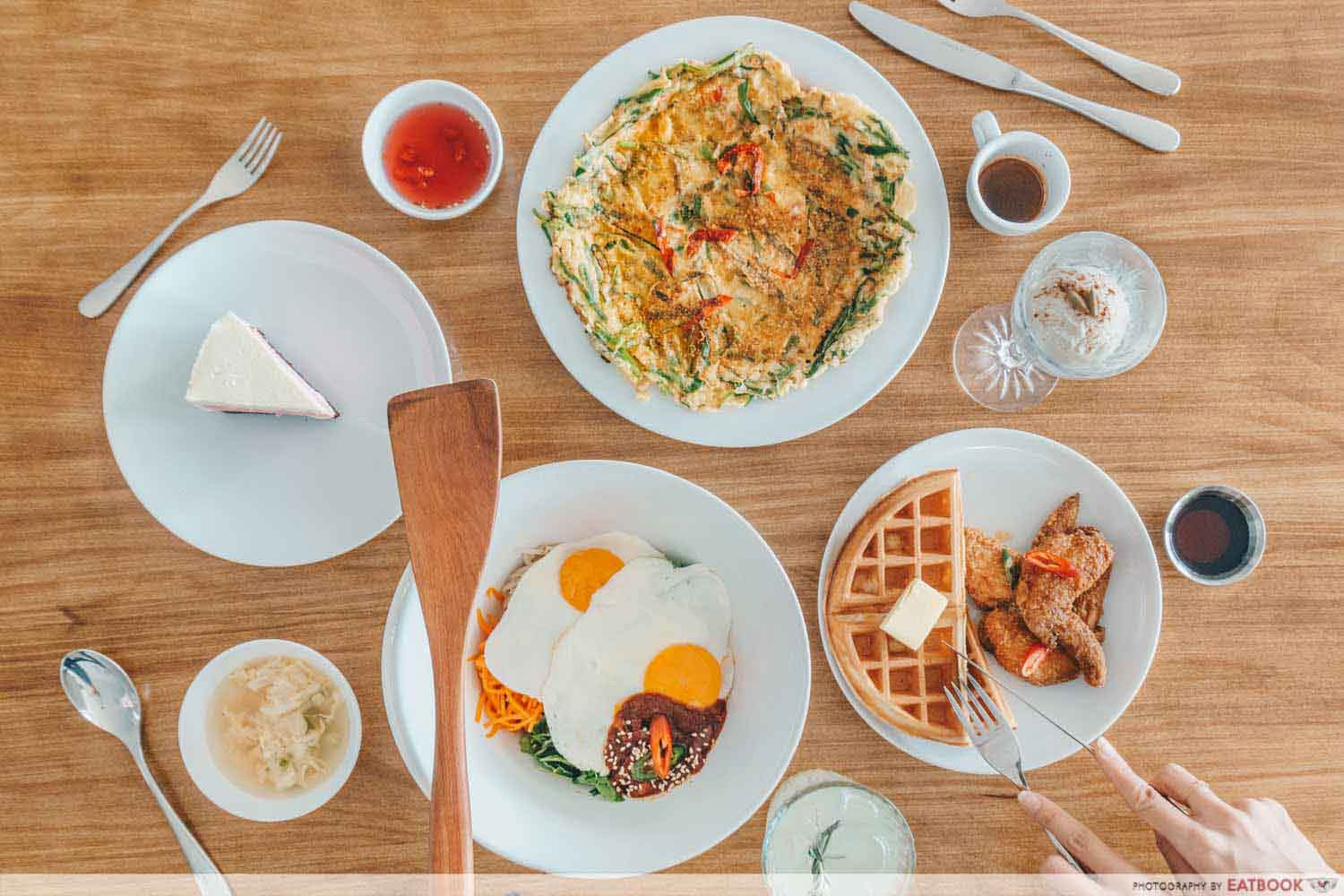 There's a reason why Kong Cafe made it to our list of 10 best cafes in Singapore. At first glance, this minimalist cafe seems like an art gallery with vibrant artwork decorating the space. These are creations by the owner, Hanna Mi Kim. Her artistic side also trickles down to the well thought out menu. You'll spot classic Korean dishes, such as Bibim Bowl ($26), as well as cafe essentials that basic girls can vibe with.
10 Best Cafes In Singapore Including Aesthetic Garden-Themed Cafes – Eatbook Top 50 Awards 2019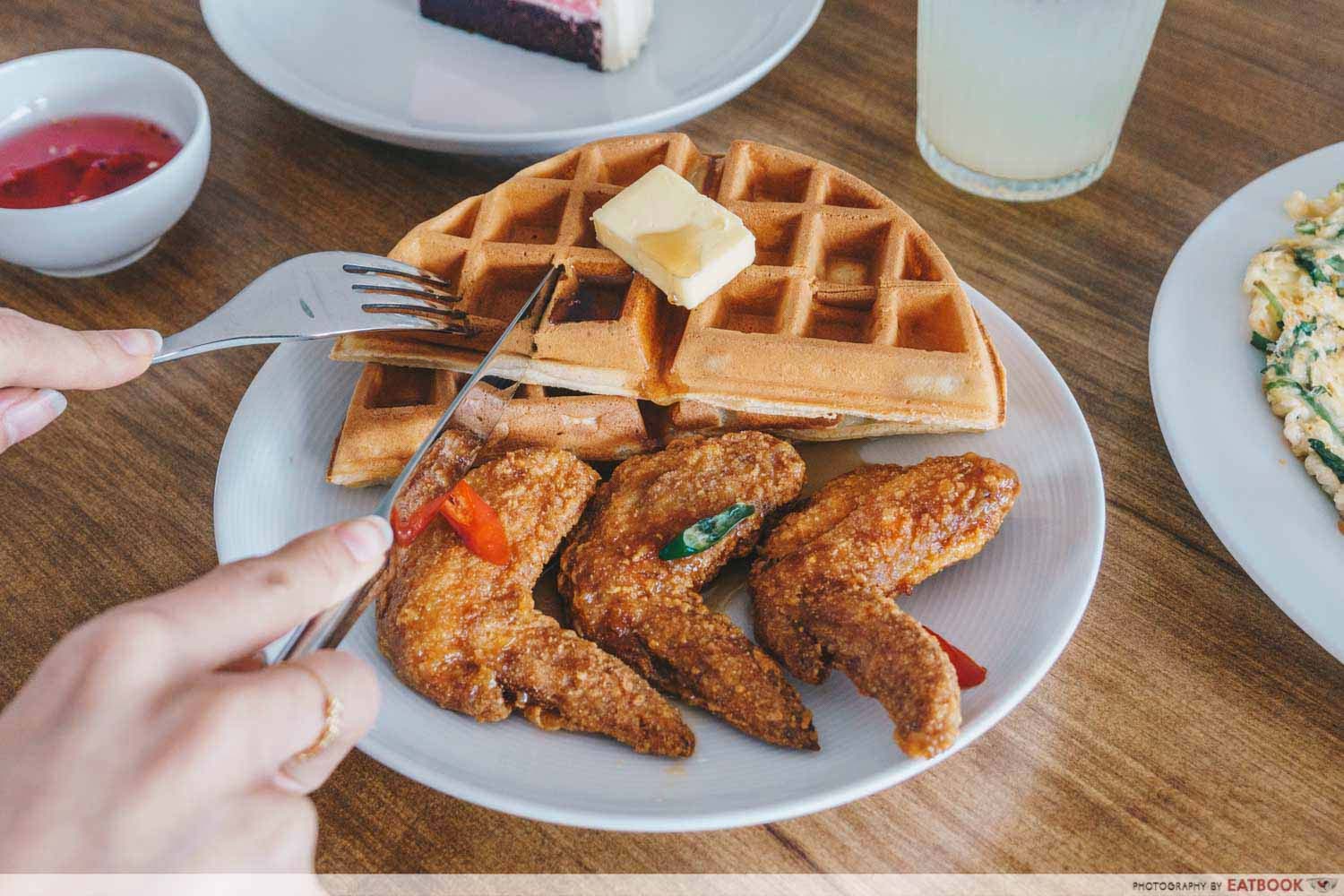 Don't let the steep price of their bibim bowl keep you from ordering this delicious medley of spicy and savoury flavours. This massive bowl is actually meant for two. If you can't decide between a main or dessert, have them both with the fluffy Honey Butter Waffles ($18) which comes with crispy honey glazed mid-joint wings. 
Kong Cafe Review: New Minimalist Korean Cafe With Honey Butter Waffles Opened By A Korean
Address: 896 Dunearn Road, #01-11, Singapore 589472
Opening hours: Mon-Wed 8am to 6pm, Thurs-Fri 8am to 10pm, Sat-Sun 9am to 10pm
Website 
---
9. Sushi Plus
---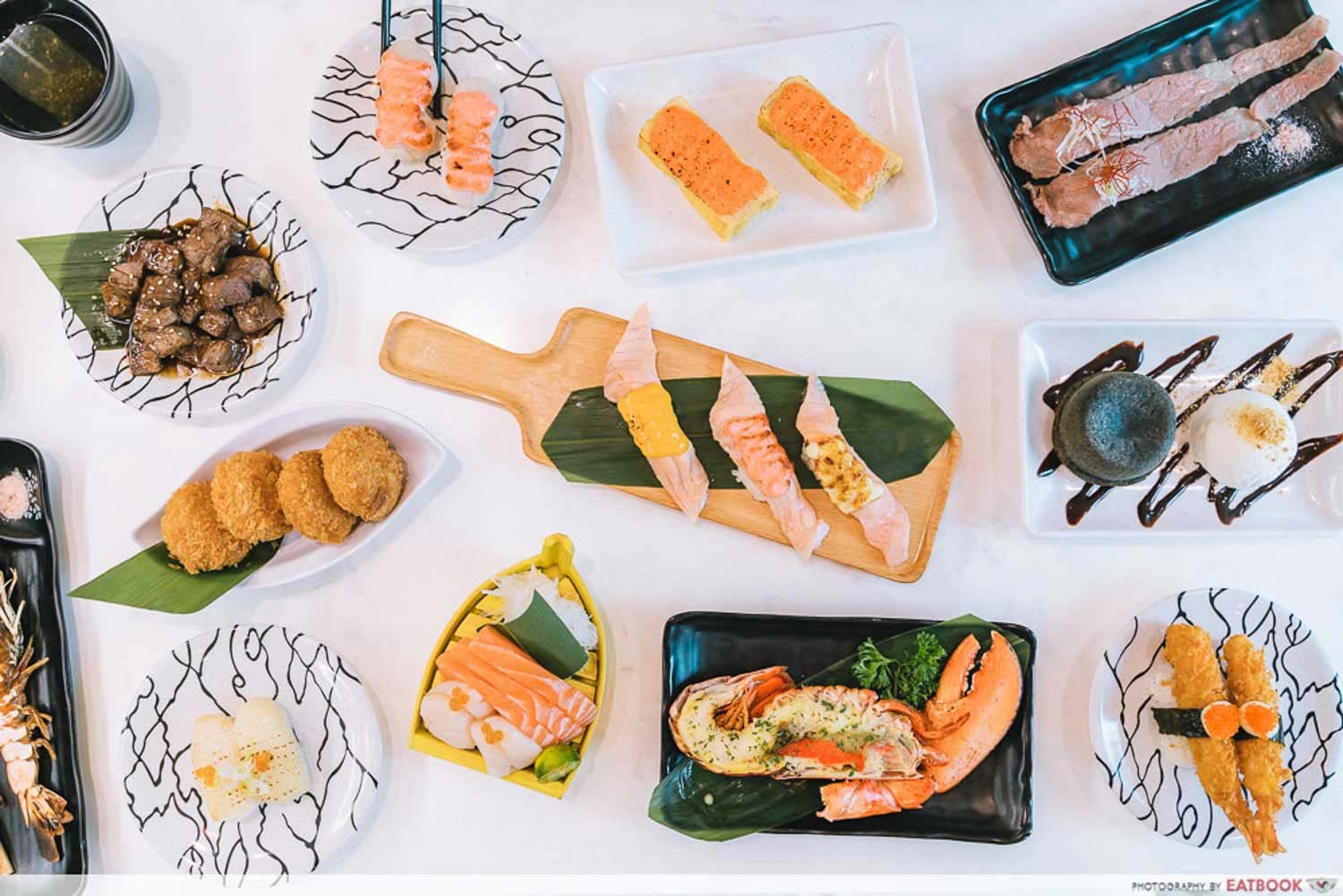 Dining at Japanese restaurants is a surefire way to burn a hole in your wallet. If you're still craving for a sushi fix, head down to Sushi Plus at Bugis Junction. This new sushi train and conveyor belt restaurant strays away from its sister eatery, Sushi Express, with their range of premium options. You'll still get to enjoy economical prices starting from $1.50++. Dive into the Assorted Sashimi ($6.50++) which features thick salmon slices and chunky scallops.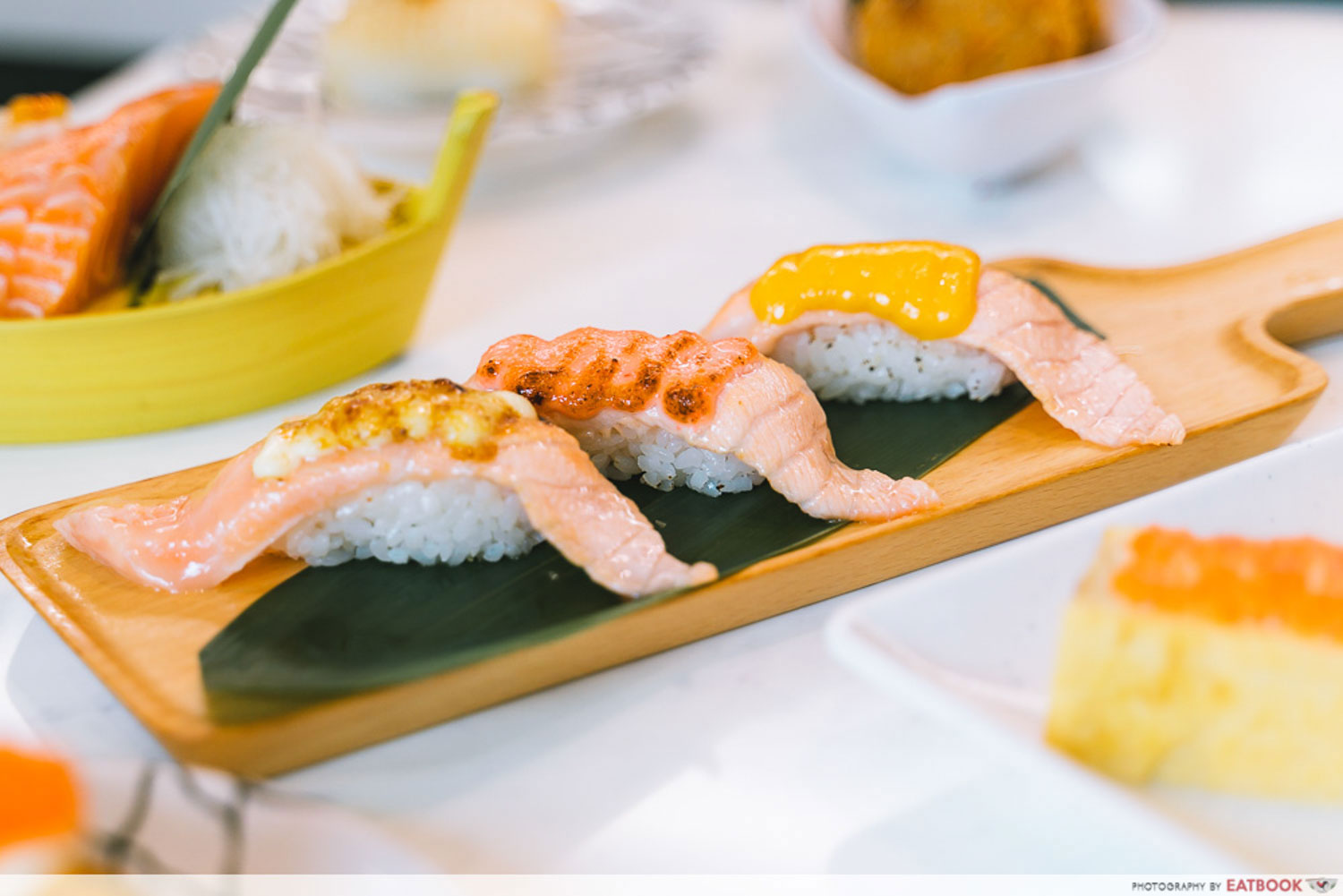 The Triple Flavour Salmon Selection ($5++) is a little sample platter of their aburi salmon sushi. You'll score smoky Jumbo Caramelised Salmon, savoury Jumbo Cheese Salmon, and creamy Jumbo Mentaiko Salmon. Check out their premier items including Sea Urchin Cream Croquette ($3++). This delicate uni-filled fried roll comes with a subtle umami taste.
Sushi Plus Review: New Sushi Train And Conveyor Belt Restaurant At Bugis With Prices Starting From $1.50
Address: 200 Victoria Street, #02-53, Bugis Junction, Singapore 188021
Opening hours: Daily 11am to 9:30pm
Website
Sushi Plus is not a halal-certified eatery.
---
10. Bread & Butterfly
---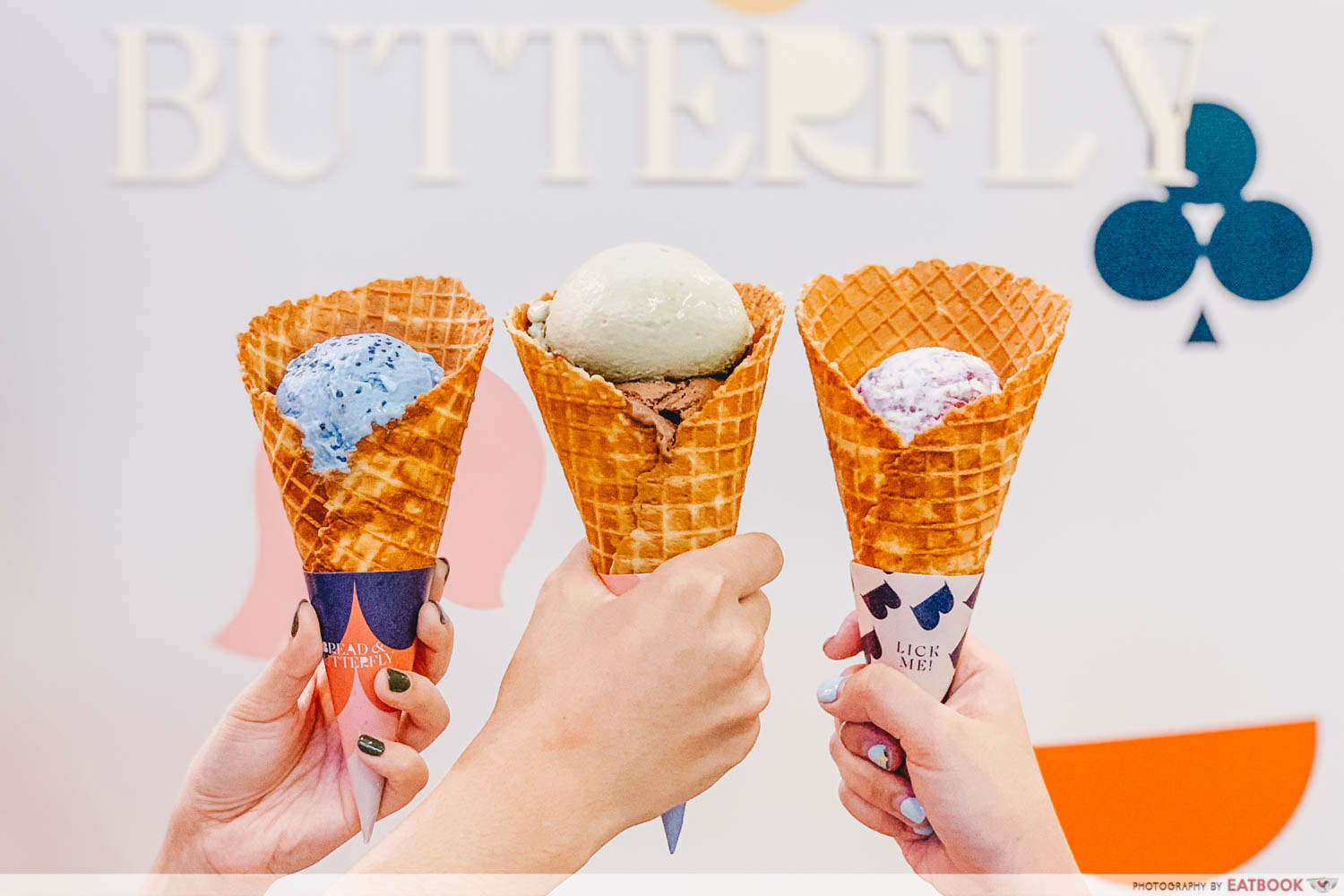 This month's sweltering weather only gives us more reason to check out Bread & Butterfly, the newest addition to Wisma Atria. Opened by the same people behind the affordable French restaurant Saveur, this ice cream kiosk serves up to 12 unique flavours as well as a lavender-infused cone.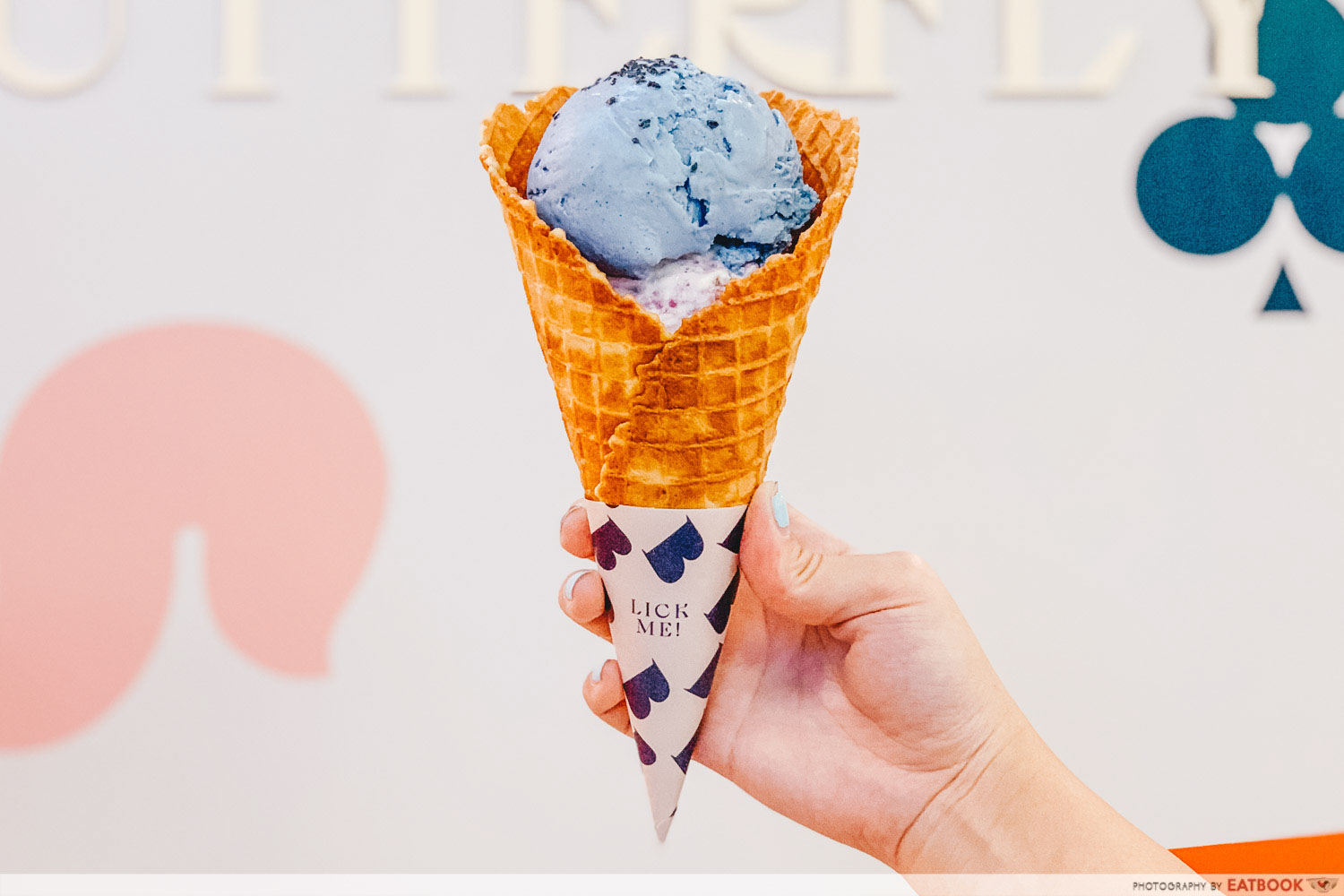 Each scoop will set you back from $5 for a single scoop, $8 for a double scoop, and $1 for their lavender cone. Whilst it's a tad pricey, the unique and full-bodied flavours make it worth every penny. Spring for the Blue Vanilla with Black Sea Salt which is milky with a tinge of saltiness, and Pistachio & Candied Pecans for that rich, nutty aroma, accompanied by crunchy pecans. 
Address: 435 Orchard Road, #B1-46, Wisma Atria, Singapore 238877
Opening hours: Daily 10am to 10pm
Website
---
Indulge at these new restaurants in January 2020
---
Start the new year on the right note by spending whatever's left of your bonus at these new restaurants in Singapore Whether it's humongous burgers at Five Guys or sweet pastries at Zakuzaku, the dishes listed here will leave you satisfied! For a list of the best food places in 2019, check out the winners of Eatbook Top 50 Awards 2019.
50 Best Food Places In Singapore For All Budgets – Eatbook Top 50 Awards 2019